H2BLUE-ECO: H2 & Biofuels Logistics Unitary Europe - Environmental Conscious Operations
We propose the development of a platform collating all the inland and open water ports within Europe, and providing information on the biofuel facilities in and around ports (incl. ammonia and hydrogen facilities) – production, storage, refilling stations, as well as the potential to develop such facilities.
H2BLUE-ECO's expectations from the acceleration programme are to:
Coaching and mentoring
access to an extensive network of start-ups and experts in the same field
business advices and financial support to successfully implement the project.
Entities
Gust of Change SRL
Gust of Change® is a start-up with offices in The Hague, Netherlands and Bucharest, Romania providing engineering and project management services for projects involving the production, storage, distribution and use of  hydrogen in various sectors of the economy.
We have both the experience in the field as well as a great will to succeed together with our clients in this ambitious mission to tackle the climate change and build a strong green economy and society.
Url: https://www.gustofchange.com/
Social Media:
Cicada Technologies SRL
CICADA TECHNOLOGIES SRL is a software company located in Cluj-Napoca, Romania, specialised in digital product development, UI/UX design, data management, business process automation, artificial intelligence, web services-based solutions and Internet of Things
Url: http://www.cicadatech.eu/
Social Media:
linkedin:  https://www.linkedin.com/company/cicada-technologies/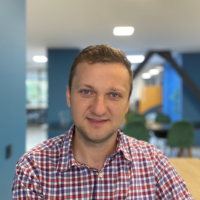 Dragos Macovei
MSc Eng., shareholder of Gust of Change SRL and the Project Coordinator, with extensive experience in bio-fuels and green hydrogen projects across Europe and North-America.
Adelin Oles
BSc Eng., shareholder of Gust of Change BV, is acting as the Renewable Energy Specialist. He has a track record experience regarding the H2 Refilling Stations for heavy and light duty transportation across The Netherlands and multiple feasibility studies coordinated across other regions.
Bogdan Rus
Ph.D. Eng, the coordinator of Cicada Technologies team, has extended experience in programming, digital product development and web services-based solutions.