MUV
"Play, win, change the world!"
MUV: The MUV Italian Tournament
MUV aims to save our lungs, heart and the planet Heart by redesigning urban mobility policies and changing our bad habits to leave a lighter footprint on our planet. MUV turns sustainable and safe mobility in into a team sport through a virtual game played in real life every time you travel around the city.
MUV's expectations from the acceleration programme are to:
deepen and develop pieces of the project that have been less touched by the research conducted so far
organising a new tournament for the MUV platform.
Entities
MUV srl SB
MUV B Corp (www.muvgame.com) is a startup founded in 2020 as part of the exploitation plan of MUV2020 [723521] Horizon 2020 Research and Innovation Action funded through the call Mobility for Growth – 4.5-2016. MUV delivers a digital service (MUV Game App and MUV Web Dashboard) to encourage sustainable and safe mobility within communities, by mixing together game design, data analysis and open innovation.
Social Media:
facebook https://www.facebook.com/muvthegame
ENCO srl
ENCO is an innovation and research-consulting firm based in Naples, active since 1987. Originally specialized in business consulting and industrial engineering, it has expanded its range of activities becoming an experienced advisor for both private business and public authorities involved in territorial development and opened two new offices in Rio de Janeiro and Brussels. The company participates in national and international R&D&I projects as a facilitator for business, product, technology and process innovation in different industrial areas, including energy, environmental management, the agro-food sector and logistics. The company has a long track record participating in EU-funded projects as WP leader, task leader and project coordinator. The company is specialized, inter alia, in two main fields:
Development of market analysis, business plan and exploitation plans
Communication and dissemination strategies
Url: https://www.enco-consulting.it/
Social Media:
LinkedIn https://it.linkedin.com/company/enco-engineering-and-consulting-srl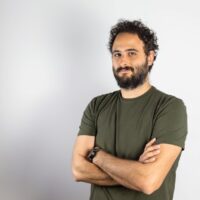 Francesco Massa
Co-founder and CEO
He is an expert in financial management and data analysis & visualization. He holds a degree in management engineering with a thesis on product design in the field of IoT. In 2012 he co-founded PUSH, whereby he developed a wide experience in the management and the reporting processes of applied research projects. He is also one of the co-founders of the cross-media production company The Piranesi Experience and, since 2015, partner of the service design firm NEU. In 2020 he co-funded MUV B Corp where he serves as CEO.
Salvatore Di Dio
Co-founder and CSO
Salvatore Di Dio has a background in engineering, architecture and energy. He has done research on the role of technology for the future of cities at MIT, he published a book on lean thinking applied to urban policies for sustainability and was "accelerated" by Google in a program for digital designers/founders. He is co-founder of the design laboratory PUSH, the service design studio Neu, the film production company The Piranesi Experience and of the tech startup MUV B-Corp. He is Associate Professor of Design at the University of Palermo.
Domenico Schillaci
Co-founder and CTO
He is a researcher, designer and entrepreneur with a background in engineering, information technology and social innovation. He achieved a master's degree in telecommunications engineering from the Polytechnic University of Milan in 2010, where he held position, from 2011 to 2012, as research associate focusing on wireless mesh networks. Since 2012 he's co-founder and director of the design lab PUSH. He's also CTO of the startup MUV B-Corp. He has strong experience in managing and coordinating applied research projects and training programmes. He is an expert in communication information technology, design methodologies and social innovation.
Giuseppe Salvio
Responsible for communication and dissemination activities
Project Manager, since 2019. He holds a Master degree in Law and he got the Master Executive in EU Project Management certificate in 2019. He has good skills in the management, planning and execution of communication, dissemination and exploitation activities, writing official reports, besides assisting and managing activities of EU-funded project as REMADYL (H2020- SC5 GA 821136) and SCRREEN2 (H2020-GA 958211). He is currently assisting the SHEALTHY (H2020- GA 817936) IPR & Exploitation Manager.