AEM
"More is less. Less is more"
AEM: ABBASSO E-MPATTO
This project builds a digital model of buying groups based on solidarity and on sustainable products addressed to commercial activities based in the city of Torino (IT).
AEM's expectations from the acceleration programme are to:
define better the business model
understand how to pass from the city's scale to national and European's scale
Entities
Mercato Circolare srl benefit corporation
Mercato Circolare (Circular Market) is an innovative startup with a social goal, established in 2018, with the aim to connect citizens, enterprises and administrations in the circular economy paradigm. Mercato Circolare creates digital and cultural B2B and B2C connections, through the app 'Mercato Circolare', training and consulting services. Moreover, Mercato Circolare makes circular economy accessible and applicable through a set of cross-media tools that stimulate the civic commitment and awareness.
Url: https://www.mercatocircolare.it/
Social Media:
facebook @Mercato Circolare
instagram @mercato_circolare
twitter @mercatocircolar
youtube Mercato Circolare
Verdessenza
Ecoshop in the district of San Salvario (TO). A small cooperative of passionate people who for years, in different fields, have been dealing with environmental sustainability, circular and collaborative economy. In addition to managing a shop where we market eco-sustainable products, we design projects to reduce the environmental impact for small and large businesses: for bars, restaurants, offices and events.
Url: https://www.verdessenza.to.it/
Social Media:
facebook @VerdessenzaEcobottega
instagram https://www.instagram.com/verdessenza/?hl=it


Nadia Lambiase
 Coordinator and advisor for enterprises
President and CEO of MC; PhD student in innovation for the circular economy at University of Torino, master degree in Master's Degree in Development Cooperation and Transnational Markets; consultant for enterprises and public administration, founding member of Pop Economix in 2013 a cultural and interdisciplinary project between theatre, journalism and economic culture, which aims to make audience development around the theme of economic citizenshipm, she has worked for 10 years in an ethic bank, she is also author of some scientific publications, and for theatre plays.
Antonio Castagna
 Coordinator and advisor for enterprises
He is a consultants and educator and an expert in the Circular Economy. He has studied the system of the reuse center with experimentation activities on the waste materials with the collaboration of the cooperative Triciclo and the Politecnico di Torino. He is the author of many scientific and informative articles on the topic of waste. He is the author of the book "Tutto è monnezza" (Liberaria 2013). Since 2018 he is in the drafting committee of "Animazione Sociale". He was also a speaker in TEDx Torino in 2017.
Tommaso Vineis
 Coordinator of the buying groups
He has worked for multiple companies in Italy and in the world. In 2012 has opened the "Tomato Backpackers Hotel" following the model of the north Europe, a sustainable and informal hotel.
In 2016 has opened the "Caffè Moderno" to be a meeting point among the host of the hotel and the local citizens.
Riccardo Gagliarducci

Design and it development
He is responsible for the technological development of the MC app. He is also teacher of Virtual Design in Politecnico di Torino and in Accademie delle Belle Arti. He is also the founder in 2013 of Brixel, a group of digital creative people.
Chiara Battistoni
 Project manager
She has a bachelor degree in industrial design, a master degree in Systemic Design. In 2020, she holds a PhD degree in management, production and design at Politecnico di Torino with a focus on Systemic Design and Circular Regional Economy. She is the project officer of Mercato Circolare.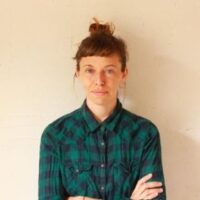 Roberta De Stefanis
Design, test user, communication
She is the referee in Mercato Circolare for the educational part and for the intervention in the schools. She has a master degree in Systemic Design and she is expert in social innovation, facilitation of group work and of the methodology of the design thinking
Cosimo Biasi
 Coordinator of the buying groups
He has a degree in Architecture and a master degree in environmental engineer. He is a certified teacher from the school Emas Ecolabel for the hotel service in Puglia region. He was a teacher from 2006 to 2011 on the methodologies of the life cycle and environmental impact. He has worked for Arpa Piemonte, CCIAA Cuneo, Assessorati Ambiente e Turismo of Piedmont Region conducting diagnosis on environmental and energetic problems and designing intervention to better the situation.
Alessandra Mazzotta

 Communication
She is a journalist publicists and a copywriter of enrivonemntal communication and organization of sustainable events. She holds a degree in communication science. She has worked for paper and digital journals, writing about environment and interculture. She has coordinated the activity "T.V.B. Ti Voglio Bere" for the valorization of the drinkable water from the tap. She has written the ebook "L'antispreco è servito. Ricette teoriche e pratiche per non sprecare (quasi) niente".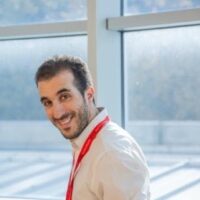 Andrea La Valle
Communication
He is the referee in Mercato Circolare for the social media strategy, the communication and the organization. He is a journalist.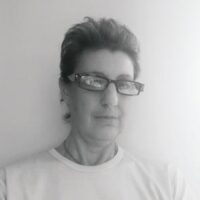 Paola Ameglio

Administration and back office
She holds a degree in Economics. Since more than 30 years she has administrative functions, with the management of the personnel. She has worked in small and medium enterprises working in many sectors, expecially in construction, communication, food and no profit.