According to Ellen MacArthur Foundation, Circular Economy (CE) can be defined as 'an industrial system that is restorative or regenerative by intention and design. It replaces the 'end-of-life' concept with restoration, shifts towards the use of renewable energy, eliminates the use of toxic chemicals, which impair reuse, and aims for the elimination of waste through the superior design of materials, products, systems, and, within this, business models'. According to the authors there are two types of materials that CE must retain; those are material of biological origin such as wood-based products as well as technical materials that cannot be biologically decomposed such as metals and glass. Based on a life-cycle perspective, CE is based on innovative product design and on 'sharing, leasing, reuse, repair, refurbishment and recycling, in an (almost) closed loop, which aims to retain the highest utility and value of products, components and materials at all times' (Bourguignon, 2016).
The CE concept has been indirectly promoted through various Environmental Action Programmes; however, it was in the 7th EAP that CE was officially introduced for the first time. The programme 'Living well, within the limits of our planet' is guided by a long-term vision: 'In 2050, we live well, within the planet's ecological limits. Our prosperity and healthy environment stem from an innovative, circular economy where nothing is wasted and where natural resources are managed sustainably, and biodiversity is protected, valued and restored in ways that enhance our society's resilience. Our low-carbon growth has long been decoupled from resource use, setting the pace for a safe and sustainable global society'. Following this, the term of CE has been widely used in several policy, academic but also layman's documents.
In the context of this new era of economic opportunities, the European Commission (EC) launched on 2 December 2015, the First Circular Economy Action Plan: 'Closing the loop – An EU action plan for the Circular Economy' which included measures to promote the transformation of the European linear model of the economy to a circular one by also boosting job creation and fostering global competitiveness and sustainable economic growth (European Commission, 2020a). Following the evaluation of the First Circular Economy Action Plan (CEAP), on 11 March 2020 EC adopted the new Circular Economy Action Plan for a Cleaner and More Competitive Europe – one of the main blocks of the European Green Deal, Europe's new agenda for sustainable growth. The new CEAP foresees initiatives throughout the whole life cycle of products from the design phase to the reintroduction of materials as secondary materials back to the market. Sustainable design as well as empower of consumers and public buyers towards more circular decisions are highly promoted by the new CEAP (European Commission, 2020b).
From a product-perspective, the concept of circularity and sustainability shall be considered throughout six important steps in order to promote the transition to CE. As shown in the figure, those six steps refer to: the design phase, the production phase, the distribution phase, the phase of consumption, the collection of waste generated from the product consumption and its final treatment so as to produce high quality secondary products.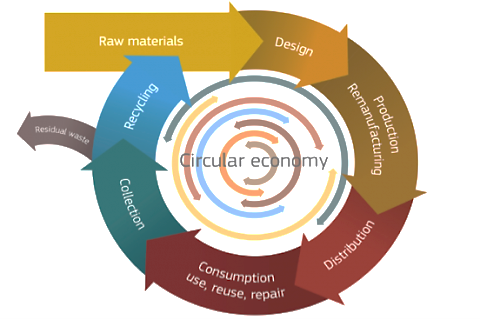 Important steps to be considered for promoting CE from a product perspective (EASME, 2017)
Today, there are many areas that CE can be applied bringing both environmental and economic benefits such as reduced pressures on the environment due to significant reduction of greenhouse gases and large-scale reuse of materials; enhanced security of supply of raw materials; increased competitiveness due to savings to businesses and consumers through improved resource efficiency. For citizens, CE can provide high-quality, safe and sustainable products, which are efficient and affordable, last longer and are designed for reuse, repair, and high-quality recycling (European Commission, 2020c). However, according to Rizos et al. (2017) shifting the linear economic model, that was prevailing from the onset of the Industrial Revolution, is a challenging task requiring a transformation of the existing production and consumption patterns.
Moving from a linear to a more circular economy calls for new circular business models, new styles of consumer behaviour and innovative solutions for turning waste into resources (Bačová et al., 2014). New circular business models focusing on a closer connection with customers as well as the sharing and collaborative economy, and driven by the digital technologies, such as the internet of things (IoT), big data, blockchain and artificial intelligence as well as innovative engineered technologies in the waste management, will drive fundamental changes across products value chains and also promote sustainable patterns and the transition to Circular Economy.